About us
Originally called "Maschinenbau Biland", the company was founded in 1969 by Max Biland and Marlis Biland (hence the name "MABI") as a specialist mechanical workshop for the construction of insulating machines. Even at this early stage, it was clear that Max Biland's machines were in great demand on the international market. Technical specialists from various disciplines were brought in to further develop and expand equipment that was already highly refined technically, and to assist MABI AG in achieving its progression to today's standard of know-how. Nowadays, MABI is recognised as the market leader in this sector of industry and is successfully active on an international basis. Max's two sons, Michael Biland and Markus Biland have worked for MABI AG since 1993.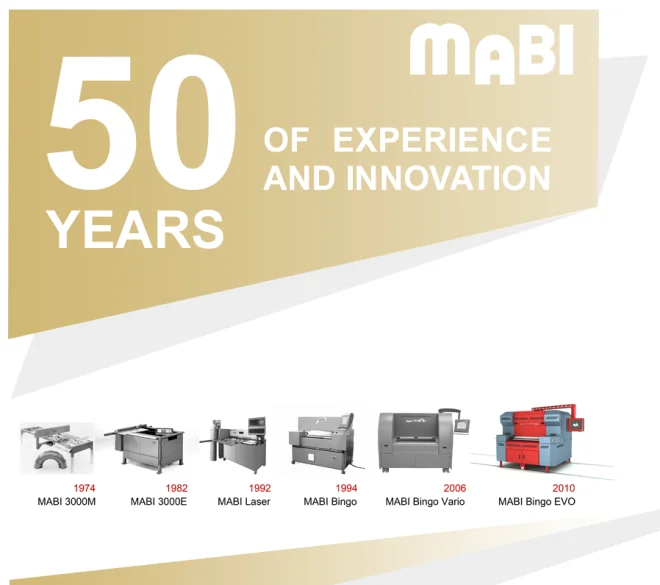 2019
Solid, owner-led family business with 50 years of experience, current know-how and the technology of the future.

Worldwide leading insulating machines are manufactured with Swiss precision using the latest machinery. MABI's principle is to only build that which has not been built before. Maintaining this philosophy requires extensive professional application and manufacturing analyses. The results and knowledge gained from these are processed and then developed for operation on CAD systems (Pro Engineer and Solid Works).
Once the operating plans have been worked out for a piece of equipment, the control system is designed in-house. For our customers this means that MABI machines are as easy as possible to operate.
Thanks to the use of the latest technologies, it is hardly ever necessary to manufacture a prototype. After production of the individual parts, the insulating machines are put together on the production line step-by-step. Overlapping working sequences guarantee integrated quality control. Before every delivery, each machine undergoes stringent final testing which guarantees that every MABI machine complies with the high demands of daily use.
The range of MABI machines is extensive and covers all conceivable requirements and applications.
The service we offer of individual workshop planning for insulating operations arose from the knowledge that a workshop that is set up as well as possible improves productivity significantly. By carrying out an analysis of working sequences at the customer's premises, we are able to compile a profile of requirements and then, using a specially developed program, we are able to integrate the criteria we have established into the existing workshop facilities.
MABI AG also places great importance on technical service and in the instruction of customers. However in the rare event that a MABI machine ceases to work properly, our Service Department swings into action in a matter of moments.
No matter where you are, in urgent cases we offer a 48-hour service throughout the whole of Europe. All the supervision and co-ordination work takes place centrally in our Swiss headquarters.
Our demanding customers are our best reference, because, thanks to our products, they are always a step ahead of the times.

Assembly line at the Veltheim plant (Switzerland)
1969 Foundation of the company "Maschinenbau Biland" (specialist mechanical workshop for the construction of insulating machines)
1985 Changeover to MABI AG. Number of employee: 6
1990 Founding of new subsidiary company, MABI GmbH in Waldshut-Tiengen
1994 Number of employee: 41
1996 Realization and move from the commercial building to the Werdstrasse 10 in Veltheim (head office)
1997 For the first time an digital data (measurements) could be sent directly from the construction site (via modem) via a notebook to the first-generation MABI Bingo 16-Z
2000 MABI AG wins first prize (ISO AWARD) at the "ISO 2000" trade fair in Wiesbaden for the best product at the exhibition. 115 exhibitors from 13 countries took part in this trade fair. Number of employee: 49

2002 MABI Clou, patented swaging station, receives an Award at the ISO 2002
2004 MABI Bingo 2 receives an Award at the ISO 2004
2006 MABI presents a completely new generation of machines. For the first time ever, depending on the machine model, two cutting systems are installed, fully automatic coil change and cut optimisation save a lot of time and material. Another invention from MABI - for the efficient machining of sheet metal

2008 Since ISO 2006 we have sold more than 110 MABI "Vario" machines. Number of employee: 72

2010 MABI Bingo 2 EVO receives an Award at the ISO 2010
2012 MABI EVO Coilblitz receives an Award at the ISO 2012
2015 The compact MABI 3000E EVO laser complements the MABI product line
2019 NEW: 3000E EVO - the uncompromising further development of the well-known 3000 E Vario. Also new: In the entry-level class, the 3000E Classic rounds off the product line. Towards at the end of the year, the old MABI Bingo will be released as a Classic with new controls

2021 MABI 16-4Z Classic - currently the fastest pipe line, producing up to 10 ready-to-assemble pipe metres per minute. With an integrated labelling system, conical perforation, recessed beading and much more. Everything in one compact plant. Standard, redefined.